During the summer of 2020 the Life on the Breadline blog hosted 10 guest blog posts on responding to the Covid-19 pandemic. 6 months later we're re-visiting for updates with several of our guest writers. First is from Paul Wright, a Street Connector Mentor on the Firs and Bromford estate in Hodge Hill, Birmingham. Paul writes:
The last 6 months have reassured me that community building starts with a doorstep, a block or a street. Don't over complicate it! Our recent experience as neighbours, citizens, and as street connectors led me to this. Of course there is a lot more behind this statement. A mindset, a set of practices, a pedagogy, a committed team, and by exploring this we become at risk of overcomplicating it. Oh the sweet irony! But in the past month we have started to give time to make sense of what we are experiencing, what we are unearthing, and what we now feel is important to pay attention to.
Back in March 2020, along with the rest of the world, we were seeking to make sense of what this Covid-19 pandemic was going to bring. As stories emerged from countries to the East of us, a picture began to emerge of a catastrophic crisis that would touch us all. We also were becoming painfully aware that the immediate antidote to this pandemic was to become distant, to retreat to our houses, to lose the obvious ways we connect and the visible ways we 'be' community. This became an urgent dilemma of assessing the impact on physical health of the pandemic, with the social and emotional impact of being 'socially' distant. For those of you who have followed our journey you will know that the essence of street connecting is about making social contact, building social connections, nurturing bumping places and social gathering, building trust through being together. Opening up conversations 'onland' and not online. So what emerged became a question of how can we 'be present' in our neighbourhood, with our neighbours.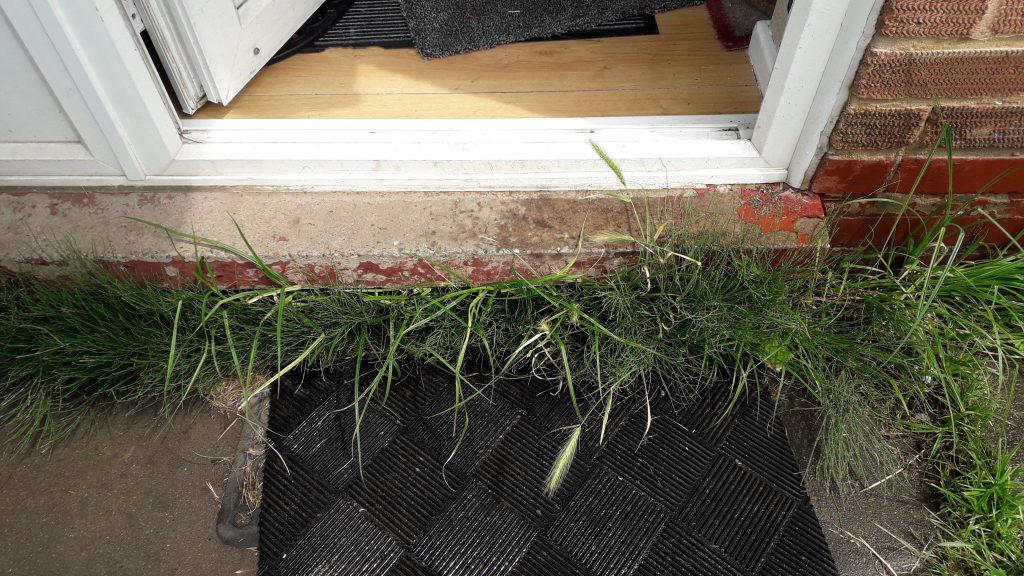 During those early days there emerged from the ABCD community a very clear challenge to stay socially connected whilst being physically distant and the hashtag #TogetherApart became a rallying call to many community builders across the world. I will always remember being challenged by our good friend Cormac Russell. When I described an encounter with a neighbour on her doorstep I joked saying 'probably shouldn't be doing that and good job the Police didn't see us'. Cormac asked me to walk him through the encounter and explain how I thought I'd broken the rules. For those of you who know Cormac you will know he did this with his usual gentle manner, but I heard this loud and clear as a challenge, and dare I say an order. To stay connected, stay rooted, be creative and remember the crucial role connectors and community builders have in neighbourhoods, and in particular the 'need' for physical presence, face to face encounters and ongoing community building.
The street connecting team turned to zoom to enable us to continue to meet, discuss, laugh, reflect, and journey together. Although uncomfortable at times and strange to be online and not onland. The space became crucial for us to stay connected, to journey together, to share our experiences, our hopes and fears, our struggles and our joys. It became a space to notice things about our neighbourhood, our neighbours and each other. It became a space to gently encourage each other to find ways to be physically present. Many creative & fun ways emerged including wandering walks, knocking on a neighbours door and stepping back with gifts or messages of love, and even ways to still do a street party. This was the beginning of a reaffirming that community building begins on a doorstep, a street or a block. Partly because that's all we had! For example Thursday evening clap for the carers became a weekly ritual of connecting with neighbours from one doorstep or balcony to another. But alongside these moments of joy we knew the pandemic was taking its toll, we knew the number of food parcels being delivered, and stories of isolation, worry, hurt and loss. We also were aware that there would be stories we didn't know, both of joy and of struggle. We deeply felt that when we could we needed to find a way to do street connecting again.
When the strictest lockdown measures were lifted we made plans to start our door knocking again. We discussed how we wanted to do it. We didn't want to jump to seeking out the needs, the problems, and issues, and see our role as fixing, or plugging the gaps, or making referrals. But also we knew we would find struggles, suffering, and pain. We also wished to unearth the stories of connection, care, joy, love and wanted to find ways to lift these stories up. We wanted to hold tight to 'good life' conversations, and unearth stories of how people are experiencing a good life and what they feel a good life could be, but also stories of what gets in the way of a good life. So in the spirit of simplicity, we thought lets begin with 'how are you?' and let the conversation flow from there. What I don't think we fully comprehended was how powerful that question was going to be!
Over the coming months we plan to share some of the good life conversations we had, and what we feel is being unearthed, revealed, uncovered, exposed and what is beginning to emerge. Before we do this we want to share some of the shared learning that has come out of this process and experience and how this is beginning to shape our community building.
Open up the space for conversation and connection
Pre-Covid our door knocking experience was always interesting. For many of the connectors they would say it was the thing they enjoyed the least. Being on a doorstep 'cold calling' put us in the same bracket as product sellers, charity sellers, religion sellers and political sellers all whom have a pre-set agenda & goal! I believe we had become skilled in creating an environment that reduced people's fears, anxieties and skepticism of 'what do you want!?' and opened up a space for the beginning of a good life conversation. But it has sometimes felt we end up doing more talking than listening, and feeling more comfortable when we have something to promote e.g. a street party. But during the past few months this has flipped on it's head. People have wanted to talk, and I mean talk! The context of lockdown helped. More people were off work with more time on their hands to chat, people had had reduced social contact so longed for someone to talk to, people had gardens they had spent hours on to show us, and at the heart of these conversations was a shared experience we could talk about and very obvious common ground because the pandemic in some shape or form had effected us all. We are beginning to see this dynamic change as people return to work, school, college, and some resonance of 'normal' life. But what I feel we are learning is that those initial encounters on the doorstep should be as simple as 'Hi, we are local neighbours and we just want to get to know our neighbours better, and see how people are getting on, so how are you?'. Time will tell, but we feel that creating these encounters and genuinely asking 'how are you' will continue to be our starting place. Now this seems obvious, but genuinely is this act of discovery at the heart of most community development efforts? I'm not sure!
We had so many good life conversations and again that opens up the importance of these encounters and the focusing of time and energy to create them. Because we go door to door we are able to build a portrait of the neighbourhood and begin to make connections between people across our neighbourhood. These are already beginning to open up possibilities and opportunities, some of which will be shared in future blogs. The challenge for us is to remain committed to the doorstep, the street and the block as the space for a good life.
Relationships make the difference
Again this seems an obvious one, but what we found was a reaffirming of the importance of relationships. We found a whole range of experiences on the doorstep, but the common thread was the deeper and stronger relationships people have the better their experience of the pandemic. This included whether people had families in their house or close by (multiple generations looking out for each other and having more time with children). It also was whether they had continued to work and therefore had regular contact with people (and a purpose). But actually for many, including those working and with close family, there experience was significantly changed by how well they knew their neighbours. We heard so many stories of how a block of maisonettes, a floor of a flat, 4 or 5 houses in a street, or sometimes a whole street had come together, cared for each other, shared, laughed, played, cried, mourned, and been there for one other. These relationships pre-existed the pandemic, and some had been nurtured for over 50+ years! Plus we are talking micro micro micro level…as small as 3 houses in a row, 2 flats on the same floor, 2 houses over the road from each other. These are even smaller than some of the mutual aid and neighbour to neighbour movements that have emerged around the country. On the flipside we found people who felt very disconnected, and their experience was very very different, and ultimately we believe their wellbeing and health was significantly worse. Now this reaffirmed so much of what we believe, and brings many opportunities, emerging questions, and also challenges especially in how to respond to isolation and disconnection. Lots to ponder and explore, and lots to celebrate and nurture.
These are relationships that the state and the marketplace don't see, understand or value. When the state and even the marketplace stepped back during the pandemic, these relationships remained, nurtured wellbeing and did save lives. But I would go further and say that many neighbourhoods who celebrate their community life don't see, understand or value these street and block level relationships. They point to a building, or a project or an activity and the relationships that exist in these spaces. Of course these are important, nurture vital friendships, and are key ingredients of community building. Many projects who had to close buildings (including ourselves) turned to door step encounters through food parcels, meals and other activities. But how many of these became a transaction between a volunteer or paid worker, and a recipient and a receiver. Again I'm not underestimating the impact of this and that this also nurtured a sense of wellbeing and saved lives, and led to lovely encounters. But how many are now planning how to return to 'normal' and not being challenged by what they encountered on the doorstep. If community organisations and groups aren't thinking about this, then there is no way we can expect the state or marketplace to ever begin to understand and value community life.
A good life is ultimately a question of justice
The pandemic and our subsequent doorstep good life conversations opened our eyes a bit more, attuned our ears, and focused our minds. A focus on the 'good life' can sometimes be skewed to thinking we are only interested in what is good. We perhaps don't focus on the issues, the problems, the crises, the moans and challenges. We want to know what gives you life, what you enjoy, what you love doing, what you might want to do with your neighbours. Then we explore ways for you to share your gifts with others. Now I'm painting a one-sided view, and the reality of our years of community building has meant we have unearthed challenges, issues, and things that become barriers to flourishing. We have a whole range of resources put into what we call barrier removal, helping people overcome debt, housing issues, benefits, skills, training, work etc. etc.
The pandemic shone a light on the deep injustices in our neighbourhood. The impact of poverty, poor housing, overcrowding, lack of investment in infrastructure, levels of employment, unstable employment, low-paid employment, the impact of poor education, poor access to healthcare, and the physical environment we live in (access to parks, green space, gardens). These have a direct impact on whether we can live and experience a good life here! Now we havn't been ignoring these issues, and we haven't not been paying attention, and we have developed and invested in ways to seek to alleviate and address these issues. But the question we are asking ourselves now is 'how do we as a neighbourhood respond?'. Whilst retaining our commitment to community building, to relationships, to unearthing the gifts, skills, talents, passions and energy we have already amongst us, and focusing on ways we can come together to experience a good life. We are starting by asking 'what can we do for ourselves', remembering that there is so much possible in 'citizen space' that we can do for ourselves without falling into the false belief that we need the state or the current marketplace to be better and to rescue/save/serve us. But also we need to better understand what we do need from others, what we need the state to do, what the marketplace could and should look like for us, and how we campaign, fight, lobby, and seek justice here.
This is just the beginning of what we feel is the next phase of our journey. We created a sharing circle to begin to share the good life conversations with others in our neighbourhood and think about the future. We plan to do this more and we hope you will join us as we share our stories wider, reflect upon what we are unearthing and focus where we pay attention in the coming weeks, months and years.
---
This blog post originally appeared on the Street Connector blog, reproduced with permission.