In the second of our guest blog series that re-visit posts from summer 2020, now in December 2020 we hear again from foodbank volunteer Bob Jefford on foodbank responses to the Covid-19 pandemic. Bob writes:
If Harold Wilson was around today he might well have puffed on his pipe and rewritten his oft-quoted phrase: "Six months is a long time in pandemics," I imagine him saying.
Can it really be only half a year since I wrote about my fears that Covid 19 would institutionalise foodbanks so deeply into the fabric of British society, that they would never go away?
Sadly, much has happened to reinforce those worries, and little has changed to give me optimism in that respect – although there have been a couple of reasons to be cheerful.
So let's start with the good news from the last six months.
Faith communities across the country have truly stepped up to the altar. As lockdowns have forced congregations to keep away, many centres of religion have doggedly insisted on keeping open their doors – be it for foodbanks or meals.
A colleague at the baptist foodbank where I volunteer, told me this was a vitally important way the church could continue serving and supporting its community, and helping people in need whatever their beliefs.
And the level of donations has remained at an all-time high; from individuals, companies, shops, supermarkets – it has been incredible. "Through the grace of God," that same colleague remarked.
I've even heard stories of foodbanks that are so full that they've been forced to turn down donations.
In such desperate times, it's reassuring that so very many are keen to share so much of what they have.
So that's the good news.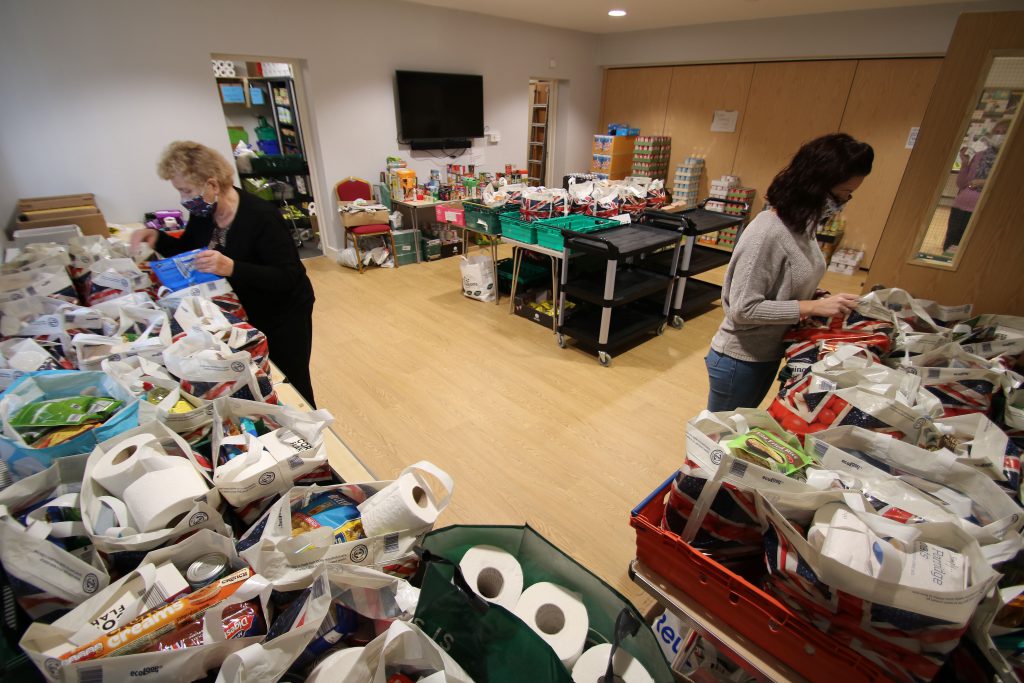 But I make absolutely no apology for sounding like a broken record when I repeat that the solution to food poverty is not foodbanks. The answer is wages or benefits high enough to allow people to afford a basic life.
Foodbanks will always be nothing more than a sticking plaster.
The events of the last six months show, if anything, a move away from that actual solution.
There have been the school meal battles with footballers – the irony of initially refusing £20m-a-week holiday food for kids on free school meals after serving up £522m for the "Eat Out to Help Out" scheme, wasn't lost on me.
Now there's yet another public sector pay freeze – although the poorest will get an extra fiver a week – and an ominous silence on the future of the £20-a-week boost to universal credit beyond April.
And amid all the signs that this Government still tramples over the poorest in a capitalist rush to embrace the economy, there have been moves that while being positive in the short term, reinforce my central worry that foodbanks are here for good.
Until now, foodbanks have been essentially ignored by the Government.
Now, where I volunteer, the challenge is to spend the money on offer – two grants totalling far more than £20,000 have meant our support of people in poverty has never been more generous. We are even able to provide some white goods and vouchers for gas and electric. It's a lovely problem to have!
Don't get me wrong. All of this will be desperately needed probably for years by those whose livelihoods have been stolen away by the virus. And there are still a great many people going hungry and cold in silence, too proud to accept the charity of a foodbank.
Of course, these are unprecedented times of difficulty, but my point remains.
All this money shows the Government has patently accepted it needs to financially support efforts to tackle food poverty.
It could have dramatically improved benefits in the ways constantly highlighted by anti-poverty charities. But it didn't.
Faced with a new year strangled by the steepest economic decline of 300 years, where another one million people are expected to lose their jobs, and with Brexit lurking in the shadows, this government has effectively said that foodbanks are not just for Christmas…