On 8-9th November 2018 the Life on the Breadline project team attended the National Poverty Consultation in Manchester, organised with project partner Church Action on Poverty.  On the second day of the consultation Chris Shannahan, Peter Scott and Stephanie Denning led a workshop to introduce the Life on the Breadline project, and then facilitate small group discussions.
First Chris introduced the Life on the Breadline project, outlining the backdrop and what the project will involve and hope to achieve.  Stephanie then showed the group the elements of the project website, and discussed different understandings of austerity as economic, personal, and historical.  Thirdly, Chris spoke on Black Churches and austerity – sharing thoughts from project member Robert Beckford – around historical austerity,  institutional church responses, and then missionary theology and prosperity doctrine.  Finally, Peter Scott presented on austerity and ecclesiology – thinking about the Church's relation to poverty, and HeartEdge analysis of wealth and the Church.  For more detail on all of these presentations, you can listen to recordings from the session and view the presenters' slides here.  
The second half of the session involved small group discussions around two questions: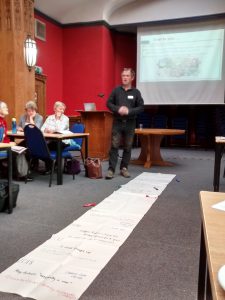 What does austerity feel like?  How has the 'age of austerity' affected you and the people whom you know?
What is the role of the Church in an 'age of austerity'?
As part of this discussion, groups were invited to add to an austerity timeline – years 2008 to 2018 were shown with a limited number of key austerity policies.  People added their 'key moments' of austerity, including a recognition that some changes have happened slowly over time, rather than being specific dates, and austerity has affected some groups in society more than others.
We'd like to thank everyone who contributed to the timeline and session at the National Poverty Consultation.  People's contributions have been added to the Life on the Breadline project's austerity timeline to create a collaborative resource which you can find below and also view on the Resources section of the website.  We'll continue to update the timeline over the next three years as the project runs.